Produkte / Products:
Endlose Druckbänder für Rotationspressen
In hochwertiger Spezialausführung aus geprüftem Stahldrahtseil,
mit garantierter Spannungs- und Längengleichheit der Kettenseile
und hoher Kettenzahl bei optimaler Schusszahl.
Dieses gewährleistet außergewöhnlich hohe Verzugsfestigkeit,
gleichmäßigen Anpressdruck über die gesamte Breite der Heizfläche,
geringe Bandwanderung und lange Betriebszeiten.
Für die sorgfältige Inbetriebnahme - Maschinenstand, Geometrie, Ausrecken -
stehen unsere erfahrenen Spezialisten zur Verfügung.
Endless Pressure Belts for Rotary Presses
Of high-quality special design and made of tested steel wire rope with guaranteed
uniformity of tension and length with an optimum number of woofs.
Consequently, this guarantees extraordinarily high resistance to distortion,
an uniform pressure all over the total width of the heating surface, insignificant
creeping of the belt and long working periods are guaranteed.
For the careful putting into operation, the exact horizontal positioning of the machine,
the geometry and rolling down our experienced specialists are at your disposal.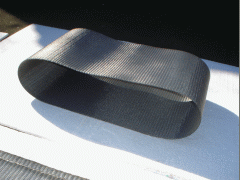 Gummierungen für Endlose Druckbänder
Für die Extrusion der Gummibeläge verwenden wir, je nach Einsatzzweck, zwei verschiedene
Butylmischungen. Wir fertigen Beläge bis zu einer Länge von 26.000 mm und einer Breite von
2.600 mm in einem Stück.
Rubber Covers for Endless Pressure Belts
For the Extrusion of the Rubber Covers and depending on the type of application,
we are using two different Butyl Compounds.
We produce Rubber Covers up to a length of 26,000 mm and 2,600 mm width in one piece.

Konstruktionen und Abmessungen der Druckbänder:
Konstruktion I, mit Querschüssen aus Stahldraht, ist in folgenden Abmessungen erhältlich:
Breite zwischen 700 mm und 3.000 mm
Länge zwischen 5.800 mm und 26.000 mm
Konstruktion I hat eine Zugfestigkeit von 230.000 Kp/Meter Bandbreite.
Kleine Druckbänder, mit Querschüssen aus Stahllitze, in
Breiten zwischen 100 mm und 700 mm und
Längen zwischen 1.210 mm und 8.550 mm,
bieten wir in drei verschiedenen Konstruktionen an:
Konstruktion II ähnelt Konstruktion I. Durch erhöhte Schlagzahl der Seile und
geringeren Seildurchmesser sowie Verwendung von Stahllitze für die Querschüsse,
hat das Gewebe jedoch eine feinere Struktur.
Die Zugfestigkeit der Druckbänder liegt bei 170.000 kp/Meter Bandbreite.

Konstruktion III ist von der Gewebestruktur zwischen Konstruktion I und Konstruktion
II anzusiedeln. Für diese Konstruktion verwenden wir Seile aus Nirostastahl.
Die Zugfestigkeit der Druckbänder liegt bei 248.000 kp/Meter Bandbreite.

Konstruktion IV wird aus Nirosta-Stahllitze mit Querschüssen aus gewelltem Nirosta-Stahlblech
gefertigt. Diese Konstruktion ist mit einer Zugfestigkeit von 100.000 kp/Meter Bandbreite die
günstigste Konstruktion aus der Produktlinie.
Fotos:

Konstruktion I
Konstruktion II
Konstruktion III
Konstruktion IV
Designs and Dimensions of the Pressure Belts:
Design I, with woofs of steel wire, is available in the following dimensions:
width between 700 mm and 3,000 mm (28 in - 118 in)
length between 5,800 mm and 26,000 mm (228 in - 1,024 in)
The tensile strength of the pressure belt is 230,000 kp/meter width (12,800 lbs./inch width).
For small Pressure Belts, with woofs of steel braid, in the range
width between 100 mm and 700 mm (4 in - 28 in)
length between 1,210 mm and 8,550 mm (48 in - 337 in)
we offer three different designs:
Design II is very similar to Design I, but by using steel wire ropes with more twist
per meter and woofs of steel braid, the texture is finer.
The tensile stength is 170,000 kp/meter width (9,600 lbs./inch width).
Design III is also similar to Design II but is made of stainless steel wires, i.e. corrosion-free,
having a tensile strength of 248,000 kp/meter width (13,880 lbs./inch width).
Design IV, with woofs of waved stainless steel stripes, is our cheapest design.
Tensile strength is 100,000 kp/meter width (5,600 lbs./inch width).


Pictures:

Design I
Design II
Design III
Design IV